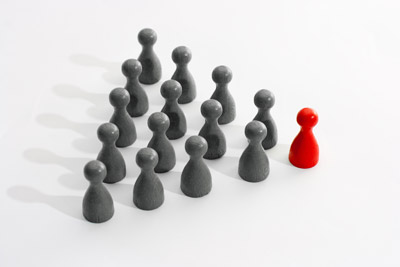 In today's ever-expanding glossary of business-speak, "thought leadership" continues to be a pervasive term. Is it just another hackneyed expression, or is it a must-have to compete effectively in the digital age?
At Susan Carol Creative, we believe thought leadership is more than buzz. In fact, it's the future of business development. We define thought leadership as highly engaging, customer-centric content marketing that:
Seamlessly shares knowledge and kindles new ideas
Subtly illuminates the unique perspective and unrivaled experience of your organization
Sharply answers the questions and addresses the "pain points" of your target audience
We believe that provocative thought leadership should be a key part of your organization's marketing strategy, reinforcing your overall mission, expanding mind share, and deepening your market credibility and authority. In fact, 79 percent of prospective buyers say thought leadership is "important to crucial" in determining which service providers they want to learn more about.
A cost-effective way to build brand: selling without a hard sell
Thought leaders are trusted sources of information and insights. They write about topics and trends that matter most to their target audience and that can ignite new ways of thinking. In a crowded marketplace clamoring for buyer attention, thought leadership will help you attract more customers to your products and services, along with connecting to viable business partners who can open new doors. Exceptional content will promote your organization and intuitively align your offerings with buyers, without self-consciously selling to them.
In fact, compared with advertising, thought leadership has the potential to grow your brand organically. Readers are more likely to engage with thought leadership, perceived to be objective, as opposed to advertising, thought to be self-serving.
In planning your thought leadership campaign, consider building resources from within, including writing, editing, design, placement, and metrics that demonstrate how well your thought leadership goals are being met.
Or, save time by outsourcing your thought leadership production to a professional communications firm that can help shape your ideas into digestible content, research and secure placements, and track results. An outside firm can provide not only content development expertise, but also comprehensive strategies to identify audiences that will readily connect with, and eagerly share, your thoughts.
Beyond the why: considering the who, what, when, and where
Anyone within your organization can create thought leadership, from your C-suite executives to your sales and customer service reps. Content can cover any topic that would be of interest – and value – to those you are targeting.
From blogs to articles, groundbreaking studies to white papers and ebooks, infographics to podcasts, videos, and webinars, you can deepen trust with current customers and attract interest from newcomers who will associate your organization with industry knowledge, best practices, and market leadership.
For example, consider posting a case study offering fresh insights into how a customer tackled a challenge to which your audience can relate. Provide a personal perspective on the latest industry news and developments. Launch an original customer survey. Offer timely guidance that addresses emerging business trends. Reflect on market movements and develop a futuristic view of where your industry is headed.
Motivate your readers with compelling content that invites them to reflect, respond, and re-post. Pack your pieces with plenty of data, observations, and real-life examples.
Potential venues for publication are numerous, from your organization's website to LinkedIn Pulse, SlideShare, YouTube, guest posts on popular blogs, and your industry's most-read online publications.
Delivering original, high-value content – not just every now and then, but with deliberate regularity – is a hallmark of creating consistent connection and building your readership. Few can publish every day or even every week, but once or twice a month is a realistic goal that can bring rapid results.
Effective thought leaders not only publish their own materials – they join the conversations others have started. Visit your industry's LinkedIn groups. Comment on blogs, join tweet chats, and be part of social media meet-ups and forums. Look continuously for ways to stretch your reach, share your knowledge, and grow your influence. Every day is a new opportunity to make an indelible imprint – one inspiration at a time.
More content on thought leadership:
Equipment Finance Advisor Launches Thought Leadership Video Series
Time to deepen your thought leadership imprint? Susan Carol Creative works with a variety of organizations that are doing just that. Call us for an obligation-free chat at 540-847-1804.