Videographer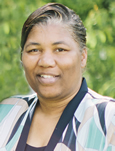 Tina has more than 15 years of professional experience as a videographer for county schools and higher education. She has produced and edited video series for our agency's clients involving health care and finance topics, all of which formed the basis for YouTube or Web distribution, and advertising.
In 2011 she earned the Presidential's Excellence Award a recognition for exceptional contributions and service to clients at Germanna Community College where she provides Information Technology, Audio Visual support and Video services.
Her experience also includes video work for non-profit organizations, including the Food Bank I Fredericksburg, Va. She produced their 30th anniversary video and also managed their presentation of it.
She earned a Bachelor's Degree in history from the University of North Carolina at Chapel Hill in 1986. She entered into information technology ten years ago, earning an Associates from Germanna Community College. She has certification in Cisco teleconferencing, Adobe Premiere and After Effects.
Tina was a Girl Scout troop leader for 13 years in Spotsylvania and she is active in her church. See LTPMedia.net for samples of her work.