Intern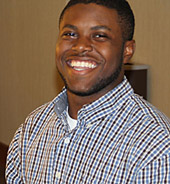 Byron Crosby is an intern with Susan Carol Creative who is collaborating with the agency's president on a social media auditing program for the firm's clients. It is designed to help clients understand how they compare to competitors and identify to improvement areas for branding and marketing effectiveness. Byron chose to work for Susan Carol Creative because he wanted to work for a local Public Relations firm to gain as much experience as possible in various aspects of marketing.
Growing up in the Fredericksburg, Virginia area, Byron attended Fredericksburg Christian High School. Currently, he is working on his Bachelors in Business at Baylor University in Waco, Texas.
At Baylor Byron is very active in his fraternity, Pi Kappa Phi; and was elected to be the Social Media Chair. Through his experience as a Social Media chair, Byron realized that his preferred social media site is Twitter, because of how fast news spreads and the fact that people from totally different backgrounds and places are able to effectively support others despite never having met in person.