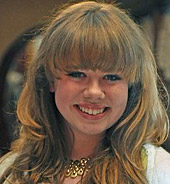 FREDERICKSBURG, VA, Sept. 30, 2016–Susan Carol Creative, a marketing communication firm with more than 25 years of experience, announced the addition of Alexandra (Alex) Rynkiewicz to the growing agency this September as a Digital Marketing and Event Specialist.
Rynkiewicz is a recent graduate of Elmira College in New York. She received her Bachelor's degree in Business Administration with a focus on Marketing. During undergraduate studies, she gained experience in event planning and social media marketing and advertising. She has proven success with online advertising and marketing management strategy, and is able to deliver a cost-effective digital marketing plan for businesses that want to introduce or rebrand their digital assets, including websites, e-newsletters, and social media.
"Alex has the very latest knowledge in marketing communications and knows how to put it into action swiftly and cost-effectively," said Susan Carol, the firm's president.
The Susan Carol Creative team has been expanding its digital marketing team to offer more sophisticated integrated marketing, digital PR and social media campaigns. The agency announced two other additions earlier this year.