Event Marketing/Grand Opening
Client:
Cyence International
Burlington, Ontario, Canada
www.cyence.com
Challenge:
Cyence International, an Ontario-based technology solutions provider, sought a strategic approach to claiming a bigger stake in the global finance market. In business since 1994, the company had recently added world-class business partners Deloitte, Microsoft and Hewlett-Packard and made major enhancements to its flagship product, ExpressOS™—an end-to-end, financial collaborative workflow system. Cyence chose the Equipment Leasing Association annual convention, held October 12-14, 2003, in San Diego, as the venue for its memorable "Coming Out Party."
Solution:
Susan Carol Associates developed a unifying theme for the company's booth and overall convention presence. Leveraging the similarity in sound of ExpressOS with espresso, the popular, "high-octane" coffee, SCA created "The Collaboration Café," with the inviting look and feel of a sidewalk coffee shop. On custom-designed menu boards and in messaging on the booth walls, the site showcased the collaborative capabilities of the ExpressOS product, as well as the company's powerhouse collaboration with its three new global business partners. Messaging drew on the ExpressOS tag line, Wake Up to ExpressOS, with such tie-ins as catch the buzz, get the discussion percolating, and brew up new business. Booth visitors enjoyed a demitasse of espresso, a demo of ExpressOS, and a branded take-home cup, with private-label Cyence coffee packets.
Along with creating the convention booth and conference theming, SCA also generated "buzz" before the conference with e-mail teasers and trade publication ads. These activities were complemented by a complete overhaul of the Cyence Web site to reflect the collaboration theme, and creation of an eye-catching product brochure and other print collateral.
Results:
According to Cyence executives, Cyence customers "communicated pride" in the company's prominent presence at the convention, while prospective customer relationships were "galvanized" by the experience. Cyence was approached by several potential partners interested in the prospect of a strategic alliance to cross-sell complementary products. "Any company looking for software in our space will now know to pick up the phone and call us," Cyence Chief Operating Officer Greg McIntosh. "We immediately received an RFP that we would not have received before the convention — and were quickly put on the short list. In sum, we were told at every turn that our booth and campaign were, indisputably, the best of any at the ELA show."
TRADESHOW BOOTH DESIGNED WITH COFFEE CAFÉ LOOK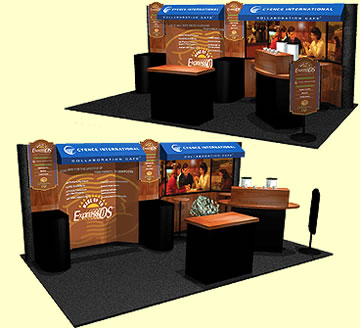 MOST SUCCESSFUL BOOTH AND INTEGRATED CAMPAIGN AT THE ELA SHOW

MENU BOARD AND TRADESHOW LOGO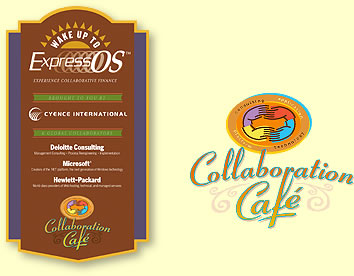 PRINT COLLATERAL INCLUDING TRIFOLD BROCHURE AND MODULE SELL SHEETS