Client:
TBF Group
Deerfield, IL
www.tbfgroup.com
Challenge:
As a family-run operation dealing with industry leaders such as American Express and Bank Of America, TBF needed an identity that would establish it as a strong, viable organization with credibility and depth. The company sought to create independent, but related, identities for each of its separate business units, TBF Financial and TBF Commercial. TBF required identity development as well as basic sales tools that communicated strength and trust.
Solution:
Susan Carol Associates developed a family-look logo and branding for TBF Group and its two divisions. The new brand identity kit included letterhead, envelopes and business cards. Branding was applied to the company's Web site by using sturdy architectural images that suggested strength and longevity. To support TBF's sales efforts, SCA developed a sales kit including folder and brochure. Finally, to carry the brand into industry events, SCA designed and produced a tradeshow backdrop.
Results:
TBF now has a consistent, integrated image from the Web to the executive conference room. The new identity has helped TBF win new, large accounts that are difficult to penetrate, especially for small, independent firms.
PRINT COLLATERAL AND DESIGN OF CORPORATE LOGO SET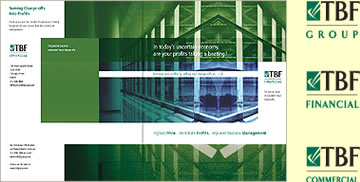 MAIN CORPORATE WEB SITE LEADING TO TWO OTHER WEB SITES FOR FINANCIAL AND COMMERCIAL GROUPS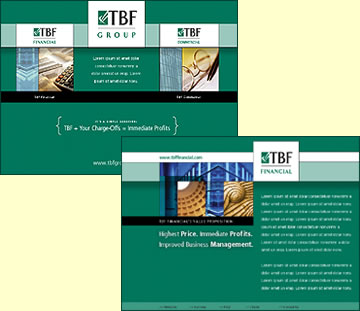 TRADESHOW DISPLAY PANEL